Hey everyone, it's been...probably literally years since I posted any of my own custom sprites here, but here's something I've been working on.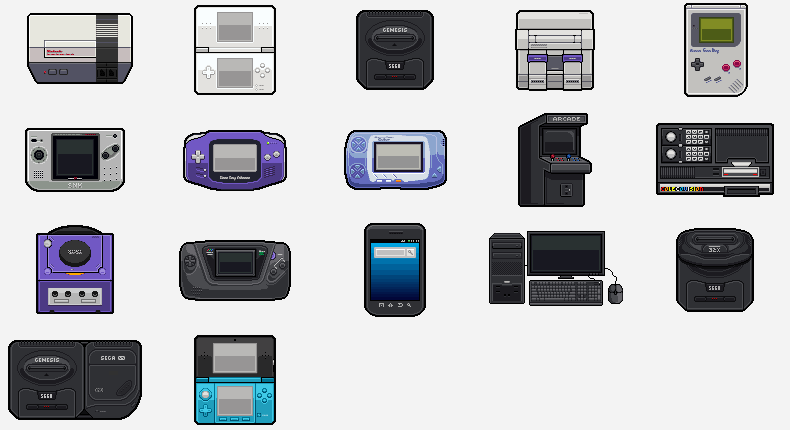 These are custom pixel art icons for various consoles:
Row 1: NES, DS, Genesis, SNES, Game Boy
Row 2: Neo Geo Pocket, Game Boy Advance, WonderSwan, Arcade, ColecoVision
Row 3: GameCube, Game Gear, Mobile, PC, Sega 32x
Row 4: Sega CD, 3DS
When these are finished, I'm planning on using them on SDB's system pages in place of the photos we're using now (which are mostly public domain photos by Evan Amos originating on Wikipedia.)
Of course these are just preview versions. I realize they are pretty inconsistent, with some looking very flat like the Genesis and Game Boy, while others have very detailed shading like the WonderSwan. They also are obviously not meant to be to scale.
On the other hand I have made an effort to make sure all the text and logos look accurate without betraying the pixel art format, which is not always easy.
Anyway, let me know what you think. There's definitely more of these to come as well as improved versions of the ones already posted.