Tutorials > Spriting Basics
Tyvon runs PixelxCore Independent gaming - http://pixelxcore.net/ - check it out. -Ed.
Welcome! This tutorial was written in order to help beginning spriters or those who have adequate knowledge and would like to grab a few pointers.
Table of Contents (Click a subject to jump to that section)
---
Basic Helpful Knowledge
So, you're ready to start spriting, eh? There's a couple of things you should know before you sprite in order to get the best of your ideas.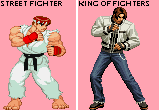 Notice how Street Fighter's sprites have a bulky, muscle-bound style, especially around the arms, and the way the clothes are constructed to look very light and cartoony, along with the overall shading being light. Also notice the definite difference betweek them and King of Fighters, which goes for a more "realistic" approach in both build and shading, and have overall darker colors.
When making a custom or doing some heavy rehauling on a sprite, try to imagine where light would be hitting it in order to make out the shades. If you need to, you can grab an action figure and observe the way the light hits it and the shadows change depending on the direction facing, or you can observe people around you, but that may be a bit on the creepy/uncomfortable side.
Here's an example: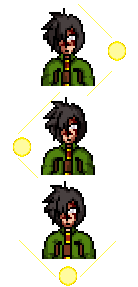 Notice the way that shadows move around as the light changes. This is crucial in making your sprite "jump out" and look good. The third, and most important part, PATIENCE! If you want the pose and design to come out the way your brain comes up with it, you need to sprite slow so the final product will look much neater.
---
REVIEW: Be able to tell the difference between sprites, light sources and take your time.
---
Making a Color Palette
You should have a good eye for color when making your character's color palette. It's a good idea to make the base colors using one of the box brushes in Paint.

Simple, no? Start off with base colors. Now comes the tricky part; choosing a good selection of darker, and if necesary, lighter shades of the same color. Most spriters, whether they be beginners or elites, still have a problem with shade choosing. You don't want to make the shades bland, or too dark/light, you want to make them "just right." This is very important; if you don't choose the right shades with your palette, or if your colors are too bright, it will become VERY uncomfortable for others to look at it.

Now we've got more shades of the same colors. If you've decided how many you would like to use, then you can move on to your first step in touching the sprite; recoloring.
---
REVIEW: Know the colors you want to use and have an idea how you want to shade.
---
Your First Recolor


So, you've got your knowledge, and you've got your colors. What's next for you? Starting to rework the sprite to the way you would like it to turn out. A good idea is to recolor it first to get an idea on how the sprite's overall shade style and light source are.
Let's start with something relatively easy: Mega Man.

Despite the fact that it's one of the most overused styles in the world, it's a good choice for beginners.

Doesn't look too bad, eh? You are most likely going to have some leftover colors that you didn't use; keep them. You'll need them for your edits. In some cases, you may also run out of shades while recoloring; just make another one of that specific color and you'll be all good. If you have any clashing colors, such as hot pink/excruciatingly bright green and clashing shades, darken and fix those now.
---
REVIEW: Match your colors and fix anything that is hard on the eyes. Do not remove unused shades; you may need them later.
---
Getting To Editing


Now that we've recolored our sprite, it's time for the best, and most time-consuming part; editing the character to match the idea in your mind. If there are necessary details that are not already on the sprite, be prepared to add them yourself!
To start off, grab any color that will stand out from the sprite and outline the basic idea of what you would like to add. Start sketching out things to remove with one color and things to add with another.

In the case of this sprite, the helmet is there and doesn't match the design, so I decided to sketch out some hair over it.
Don't worry about adding a bunch of excruciating detail yet, especially with parts you had to add yourself like I did the hair; just focus on adding the concept colors, and recoloring other parts if necessary.

Doesn't look too bad, huh? Don't stop here though; you're not done! Now that you've got the basic construction idea, you need to add more detail to make your sprite stand out even more. Start shading added parts like the items that they are.

Shade clothes like they are, making sure to pay attention to your light source. If you're satisfied with your sprite right now, then feel free to stop here. However, if you decide you want to expand your edit even more, go for it.
---
REVIEW: Sketch in your plan, then fill color in. Add extra detail if necessary.
---
Think Outside The Box!: Expanding Your Edits


So, you've gotten your design down-pat and slapped onto a sprite. But what if you want more than what you are supplied in your selected style? This is your sprite, so your opportunities are almost infinite. Add more shades if you want to really make your sprite stand out, or even go for resize-and-retouching. Beginners probably shouldn't go for resize-and-retouch unless they are absolutely confident in themselves, because it is a very long, and hard process. Let's stick to expanding our current design for now.

"wing" designs were added to the shirt. It's small changes like this that can really make a sprite look detailed, so take advantage of it.Take note that the smaller the sprite, the harder it will be to edit and add extra details. Styles such as Fire Emblem should probably be held off until you get more experienced.
---
REVIEW: Even the slightest change in the sprite can increase the effect of your sprite.
---
[DARE TO COMPARE]

Now that you have the knowledge, start spriting like crazy!